SCOFMP & LIFC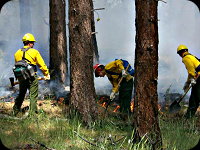 The South Central Oregon Fire Management Partnership is an interagency fire management program that provides comprehensive wildland fire service to south central Oregon and northwest Nevada.
The partnership strives to achieve a more efficient, effective and integrated interagency fire management program for all participating agencies on the land administered and protected by each agency. Dispatching is performed by the Lakeview Interagency Fire Center (LIFC).

Mission Statement
The mission for Lakeview Interagency Fire Center (LIFC) is to provide high quality service to all of our partner agencies in the most efficient and cost-effective manner possible while providing for firefighter safety at all times. All actions will be consistent with land and resource management objectives and current incident management direction.


Recorded Message of Fire Restrictions for Camping, Woodcutting, etc.
(541) 947-6259
Fire Area Emergency Closures
News
Fire Season Ending for Klamath and Lake Counties
Monday, October 16th, 2023, 1:52:09 PM PDT
Lakeview, Oregon - KLAMATH FALLS, Ore. - The 2023 Fire Season will officially end for Klamath and Lake counties. Fire management personnel from the South-Central Fire Management Partnership (SCOFMP) which includes Federal and State agencies will declare the termination of the 2023 fire season as of 12:01 a.m. Wednesday, October 18, 2023. "Fire Season" for the area has been effective since June 16, 2023.
With the termination of fire season, the BLM Oregon & Washington Lakeview District has also rescinded the restriction in the Klamath River Canyon. The official order is available online at: https://www.blm.gov/orwafire
The South-Central Oregon Fire Management Partnership recognizes the efforts of their seasonal and permanent staff in working to prevent large fires. They would also like to thank their cooperators, landowners and the people of Klamath and Lake counties for their assistance in preventing fires from starting in the first place and for helping to keep many fires that did start small.
During the 2023 season, there were a total of 139 fires across Lake and Klamath counties that burned approximately 10,283 acres. The end of fire season lifts the ban on open debris burning in Klamath and Lake counties. Logging operation requirements have also been lifted, including watchman services and fire equipment on site, in effect on private, county, and state lands.
Check with your local rural structural fire district for burning regulations within their districts and the county health departments for air quality restrictions. The Oregon Department of Forestry, Klamath-Lake District, does not issue or require burn permits on lands solely protected by them when fire season is not in effect.
Landowners must remember that any burning escaping their control is their liability and they could be billed for the fire suppression costs. So, be cautious, be fire safe, be careful.
Get our most recent updates online on Facebook at facebook.com/SCOFMPFireInfo and on Twitter at @SCOFMPFireInfo.
Fire Managers Reduce Fire Danger and Restrictions in South Central Oregon
Thursday, October 4th, 2023, 09:59:49 PM PDT
Lakeview, Oregon - KLAMATH FALLS, Ore. - Cooler temperatures, increased humidity, and recent storms are providing enough relief to allow further reduction in restrictions and fire danger in South-Central Oregon.
Effective 00:01 Thursday morning, October 5th, the agencies of the South-Central Oregon Fire Management Partnership (SCOFMP) will be lowering the Fire Danger from "High" to "Moderate". Despite this change, fuels remain dry, and caution is needed to prevent wildfires.
The Oregon Department of Forestry (ODF) Klamath-Lake District Regulated Use Closure (RUC), which regulates public use like campfires, chainsaws, and other activities that could start a wildfire, are being lifted on Thursday, October 5th.
While the RUC is being lifted, Fire Season is still in effect and regulations are in place restricting debris burning and timber harvest operations. All outdoor debris burning is still prohibited. As a reminder, any escaped or accidental fire start may result in the entire financial liability for the responsible party.
Forest operations on State and private lands that require a Permit to Operate Power Driven Machinery are required to have fire tools, onsite water supply, and watchman service. The release of sky lanterns, discharge of exploding targets or the discharge of tracer ammunition is also prohibited while Fire Season is in effect.
Public Use Restrictions, on the Fremont-Winema National Forest, Sheldon-Hart Mountain, and Klamath Basin National Wildlife Refuge Complexes and most of the Bureau of Land Management (BLM) Lakeview District were lifted on September 6th.
Public Use Restrictions remain in place on BLM lands in the Klamath River Canyon.
The Industrial Fire Precaution Level (IFPL) is lowering Thursday, October 5th from Level II to Level I. This means fire precaution requirements are still in effect, including a 1-hour fire watch following work that could spark a wildfire. Under IFPL I, chainsaw use is permitted any time of day on federal lands, including the Fremont-Winema National Forest and Lakeview District BLM.
Personal and commercial woodcutters are reminded of their responsibility to stay informed of current IFPLs and all restrictions that apply to activities conducted on public lands. Failure to comply with precautionary fire requirements may result in the issuance of a Violation Notice.
Area residents and visitors can help prevent wildfires by doing the following:
- Make sure campfires are never left unattended and are dead out and cold to the touch before leaving. Use plenty of water to drown the fire.
- If you are using a portable stove, make sure the area is clear of grasses and other fine fuels. Prevent stoves from tipping and starting a fire.
- Ensure chainsaws and other equipment, including generators, are maintained and have an approved spark arrester in good condition.
- Make sure off-road vehicles have a properly functioning catalytic converter or approved spark arrester.
- Never park a vehicle over dead grass and avoid driving through tall grass – your vehicle can ignite the fuels and start a fire.
- If towing a boat or trailer, ensure safety chains are properly secured and not dragging.
Suspected wildfires should be reported to 911 as soon as possible. Visit https://scofmp.org for more information on restrictions and IFPL.
Prescribed Fire Season starting in South Central Oregon
Wednesday, October 4th, 2023, 2:16:51 PM PDT
Lakeview, Oregon - LAKEVIEW, ORE. - Prescribed fire season has arrived in South Central Oregon, and fire managers on the Fremont-Winema National Forest, Lakeview District Bureau of Land Management, Crater Lake National Park, Klamath Basin National Wildlife Refuge Complex and Sheldon-Hart Mountain National Wildlife Refuge Complex will be applying prescribed fire to the landscape.
Fire managers use prescribed fire to improve forest health and wildlife habitat and reduce hazardous fuels to minimize the threat of high-intensity, severe wildfires in our area. Applying prescribed fire is a part of our continued commitment to protecting communities and natural resources from wildfires
During the next few months, area residents and visitors may notice smoke or fire on public lands in various areas. Each prescribed fire can appear different visually depending on the forest type, fuel load, prescribed fire objectives, and how long fire has been absent from the area. Areas, where prescribed fire operations are taking place, will be well signed and may have increased fire personnel, traffic, and smoke in the area. Please stay clear of these areas for public and firefighter safety when possible.
Prescribed fire occurs on days when the Oregon Department of Forestry Smoke Management Office indicates there are suitable weather conditions for smoke dispersal. Following that approval, if overall fuel and weather conditions are favorable, firefighters ignite a test fire before moving forward with the prescribed fire. If the test-fire indicates conditions are not suitable, the prescribed fire will be postponed until conditions improve. All prescribed fire operations are monitored and patrolled frequently by fire professionals, to ensure public safety.
All South Central Oregon Fire Management Partnership employees are committed to a safe and successful prescribed fire season for the public and employees within these designated areas.
For more information and current updates, check online at Facebook at facebook.com/SCOFMPFireInfo
Specific fire locations and other information can be found on the LIFC Incidents Information Report
NIFC National Fire News
Large Incident Information - InciWeb