A memorial tribute to the crew of Airtanker 61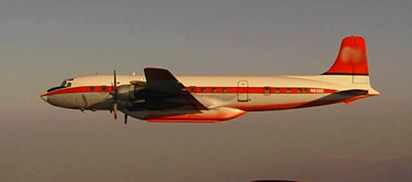 Who lost their lives fighting fire October 1, 1992
---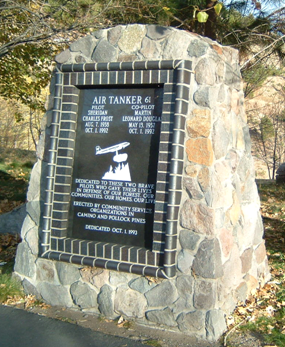 The Story of the Tanker 61 Memorial:
Tanker 61 was a Douglas DC-7 Airtanker owned by TBM Inc. of Tulare Ca. and stationed at the Klamath Falls Airtanker Base from 1987 through 1992.
The captain of Tanker 61 was Chuck Sheridan. He had been with the airtanker through all six fire seasons and had taken up residence in Klamath Falls.
Leonard Martin became Tanker 61's copilot in 1991.
On October 1, 1992 while working the Cleveland fire on the Eldorado National Forest in northern California, airtanker 61 crashed.
Both Chuck and Leonard were fatally injured.
A memorial plaque dedicated to the airtanker 61 crew is located at the Cleveland Corral Wayside near Pollock Pines, CA. not far from where the Cleveland fire started.
A memorial fund was created to assist the families of the crew with any emergency needs however the families wanted something done locally with the money to honor the memories of Chuck and Leonard.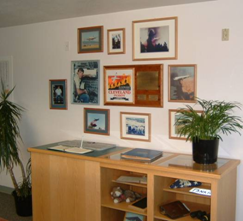 The tanker 61 crew enjoyed giving tours of their aircraft and talking to visitors about aerial firefighting so a decision was made to use the funds to build a visitor viewing center at the airtanker base. It would be an observation building designed to look like a fire lookout tower where the public could watch the activity at the base and view the items and pictures that were a memorial tribute to Chuck and Leonard.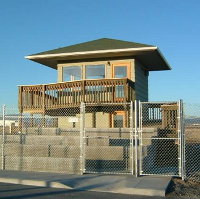 The Memorial was finished during the summer of 1994 and a dedication ceremony opened it on October 1st 1994.
In 2001 a new airtanker base was constructed on the northeast side on the airport. The Fremont-Winema National Forests funded the relocation and eventually the reconstruction of the memorial building.
Today the original contents of the memorial have been returned to the building and the Tanker 61 Memorial Association has become rejuvenated with a new membership and a fresh commitment to a our new vision for the future.
Our Vision
Honoring the memory of airtanker pilots Chuck Sheridan and Leonard Martin the Tanker 61 Memorial / Museum is dedicated to increasing knowledge of aerial firefighting techniques and history.
By providing an opportunity for young and old to learn about aerial firefighting through exhibits and displays and to observe some of these operations in practice the Memorial hopes to improve public awareness and perception of Forest Service aerial firefighting programs.
Where Are We?
The Tanker 61 Memorial is located at the Klamath Falls Interagency Fire Center where Summers Lane south ends at the Klamath Falls Airport fence.  
Donations:
Tanker 61 Memorial Association
6300 Summers Lane
Klamath Falls, Oregon 97603
A 501(c)(3) association 93-1094363

541-883-6853
541-665-2411