SCOFMP & LIFC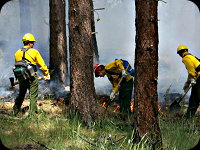 The South Central Oregon Fire Management Partnership is an interagency fire management program that provides comprehensive wildland fire service to south central Oregon and northwest Nevada.
The partnership strives to achieve a more efficient, effective and integrated interagency fire management program for all participating agencies on the land administered and protected by each agency. Dispatching is performed by the Lakeview Interagency Fire Center (LIFC).

Mission Statement
The mission for Lakeview Interagency Fire Center (LIFC) is to provide high quality service to all of our partner agencies in the most efficient and cost-effective manner possible while providing for firefighter safety at all times. All actions will be consistent with land and resource management objectives and current incident management direction.


Recorded Message of Fire Restrictions for Camping, Woodcutting, etc.
(541) 947-6259
News
Fire danger and restrictions increasing in south central Oregon
Wednesday, August 3rd, 2016, 2:32:37 PM PDT
Lakeview, Oregon - LAKEVIEW, Ore. – The fire danger was elevated to "Extreme" yesterday, and as conditions continue to dry out, the Industrial Fire Precaution Level (IFPL) will be increasing to Level 3 within lands under the South Central Oregon Fire Management Partnership and Personal Use Restrictions are also being implemented in several areas. Both the IFPL 3 and Personal Use Restrictions go into effect at 12:01 a.m. Thursday, August 4. Under IFPL 3, personal and commercial woodcutters are prohibited from operating power saws, per the rules and regulations issued with the permit. The IFPL affects lands administered by the Fremont-Winema National Forest, the Bureau of Land Management (BLM) Lakeview District and the U.S. Fish and Wildlife Service at Sheldon-Hart Mountain and Klamath Basin National Wildlife Refuge Complexes.
The only Lakeview District BLM lands not included in this are those within the Klamath Falls Resource Area west of Langell Valley. This area is under the protection of the Oregon Department of Forestry (ODF). For information on specific restrictions in areas under ODF's fire protection, please visit http://www.oregon.gov/ODF/Fire/Pages/Restrictions.aspx. Personal and commercial woodcutters are reminded of their responsibility to stay informed of current IFPLs and all restrictions that apply to activities conducted on public lands. Failure to comply with the fire precautionary requirements may result in a violation notice. Public Use Restrictions are being implemented on lands managed by the Fremont-Winema National Forest, BLM Lakeview District and the Sheldon-Hart Mountain and Klamath Basin National Wildlife Refuge Complexes. Under the restrictions, campfires are only allowed in designated campgrounds or areas. Smoking is restricted to enclosed vehicles or designated areas. Motorized vehicles can only be operated on roads clear of flammable vegetation and parking off roadways must be done in areas barren of flammable material. Chainsaws are prohibited, generators can only be used in designated areas and spark arresters are required on any internal or external combustion engine being operated. Welding or operating an acetylene or other torch with an open flame is also prohibited.
Anyone entering federal lands under these restrictions must also carry a shovel at least 26 inches long with a blade no less than 8 inches wide, an axe or Pulaski with at least a 26-inch handle and a head weight no less than 2 pounds, and at least 1 gallon of water or a 2.5 pound fully charged fire extinguisher. Violations of these prohibitions are punishable by a fine of not more than $5,000 for an individual or $10,000 for an organization, or imprisonment of not more than 6 months, or both. For more information and a list of designated sites and areas associated with the Personal Use Restrictions, please visit www.scofmp.org. The Mount Thielsen Wilderness, where the Fremont-Winema National Forest shares management with the Deschutes and Umpqua National Forests, is not currently included under Personal Use Restrictions. However, visitors should be aware of current conditions and the potential for restrictions in the Wilderness as fire season continues. Crater Lake National Park implemented Stage 1 Fire Restrictions Monday, prohibiting campfires in the backcountry and restricting campfires and smoking to designated areas. For more information, please visit www.nps.gov/crla and select "Alerts". Fire danger in the area remains high and visitors are asked to be aware of their surroundings and to be prepared for changing conditions. This includes reporting visible smoke that could be from a wildfire. To report a fire, please call 911. In addition, many parts of the SCOFMP area this week have been under red flag warnings and fire weather watches with low relative humidity and strong winds, increasing the risk of wildfire – not only from lightning, but also human causes. The agencies ask that the public be careful with anything that can throw a spark while out on federal or state public lands.
Extreme Fire Danger as we go into August
Monday, August 1st, 2016, 3:49:35 PM PDT
Lakeview, Oregon - Monday, August 01, 2016 (10:00 AM) [Klamath Falls, OR]The Oregon Department of Forestry, Klamath-Lake District, would like to encourage people to continue to use caution and avoid starting a wildfire. The District has experienced some unusual cooler than normal weather through most of July but the conditions have changed rapidly with the current hot and dry period upon us. The potential for typical mid-summer temperatures that prevail well into the 80's to 90's and no moisture looks to continue for a while. "It is time to go into Extreme Fire Danger Level," says Randall Baley Protection Unit Forester, "At the same we still want to encourage the summer family traditions and fun in camping and recreating but also being attentive to preventive details that has a potential for accidental fire starts". The Klamath-Lake District has been in Public Regulated Use Restrictions since July 1st which fall on all private, county, and state lands protected by the Klamath-Lake District, Oregon Department of Forestry [ODF] in Klamath and Lake Counties, including BLM lands west of the Gerber Reservoir area.
Under the Public Regulated Use Closure on ODF protected lands:  Smoking in wildland areas is permitted only in enclosed vehicles or improved roads.  Camping, cooking or warming fires will be prohibited, except in the following designated locations: *KLAMATH COUNTY: Topsy Campground (BLM), Surveyor Campground (BLM), Collier State Park, Kimball State Park, Hagel¬stein Park (county) and posted sites in the Klamath River Canyon. *LAKE COUNTY: Gooselake State Park. Portable cooking stoves using liquefied or bottled fuels are permitted at all locations.  Chainsaw use is prohibited between the hours of 1:00pm and 8:00pm.  Use of motor vehicles, including motorcycles and all-terrain vehicles is prohibited, except on improved roads. Possession of a shovel at least 26 inches long and a 2.5lb fire extinguisher or larger or filled gallon water container is required while traveling in a motorized vehicle, except on state and county roads.  Debris Burning was banned June 3rd in Klamath and Lake Counties, when fire season was declared, and remains in effect.  Cutting, grinding and welding of metal is prohibited. For landowners and/or their employee(s) thereof, conducting activities associated with their livelihood, cutting, grinding and welding is prohibited between the hours of 1:00p.m and 8:00p.m.  Use of fireworks is prohibited.
Extreme Fire Danger Level puts into place additional fire prevention requirements and restrictions for Commercial / Industrial forest operations on lands protected by the Department of Forestry. The required Fire Watch has a 3 hour requirement on commercial forest operations. For more information, contact the Oregon Department of Forestry at Klamath Falls, 541-883-5681 or Lakeview, 541-947-3311. Walker Range Patrol Association protects lands in northern Klamath and Lake Counties. Contact 541-433-2451 for current WRPA fire restriction information. Southwest Oregon District of the Oregon Department of Forestry protected lands in Jackson and Josephine counties. Contact 541-684-3328 for current SWO information. Fremont – Winema National Forests - contact 541-883-6715 or 541-947-2151. Lakeview District BLM - contact 541-947-2177 or 541-883-6916
Specific fire locations and other information can be found on the LIFC Incidents Information Report
NIFC National Fire News
Large Incident Information - InciWeb