SCOFMP & LIFC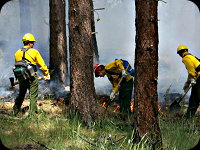 The South Central Oregon Fire Management Partnership is an interagency fire management program that provides comprehensive wildland fire service to south central Oregon and northwest Nevada.
The partnership strives to achieve a more efficient, effective and integrated interagency fire management program for all participating agencies on the land administered and protected by each agency. Dispatching is performed by the Lakeview Interagency Fire Center (LIFC).

Mission Statement
The mission for Lakeview Interagency Fire Center (LIFC) is to provide high quality service to all of our partner agencies in the most efficient and cost-effective manner possible while providing for firefighter safety at all times. All actions will be consistent with land and resource management objectives and current incident management direction.


Recorded Message of Fire Restrictions for Camping, Woodcutting, etc.
(541) 947-6259
News
Industrial Fire Precaution Level Increases (IFPL 2) Wednesday, July 12, 2017
Wednesday, July 12th, 2017, 4:22:41 PM PDT
Lakeview, Oregon - Lakeview, OR- Effective 12:01 a.m. July 12th, Industrial Fire Precaution Level (IFPL) has increased to level 2 on the following lands in the SCOFMP area.
Those administered by the Fremont-Winema National Forest, Bureau of Land Management's (BLM) Lakeview District and U.S. Fish and Wildlife Service's (USFWS) Sheldon-Hart Mountain National Wildlife Complex and Klamath Basin National Wildlife Refuge Complex are effected.
These SCOFMP areas are excluded from IFPL changes:
Crater Lake National Park
Lakeview District BLM lands with the Klamath Falls Resource Area west of Langell Valley. This area is under the protections of the Oregon Department of Forestry (ODF).
Information regarding restrictions that apply to ODF protected lands may be obtained by calling (541) 883-5681 or visiting the following Web Site: http://www.oregon.gov/odf/pages/fire/ifpl.aspx
Under IFPL 2, the following fire precautionary requirements are placed on power saw operations.
Power saws and welding equipment may not be operated between the hours of 1 p.m. and 8 p.m
All power saw exhaust systems must be in good repair and include a screen-type spark arrester of 0.0023 inches or less.
All power saw operators must be in possession of the following equipment:
1. A long-handled, round point shovel with a blade not less than eight inches wide.
2. A pressurized chemical fire extinguisher of not less than eight ounces capacity by weight.
Before refueling a power saw, the refueling spot must be clear of all flammable material, including vegetation. The chainsaw must be restarted only after the operator has moved away from the refueling area.
All power saw operators must stay in the cutting area of one hour after the chainsaw is shut off to watch for fire starts.
Personal and commercial woodcutters are reminded of their responsibility to stay informed of current IFPLs and all restrictions that apply to activities conducted on public lands. Failure to comply with fire precautionary requirements may result in the issuance of a Violation Notice.
Information on IFPL or current restrictions may be obtained by calling the Lakeview Interagency Fire Center at 541-947-6259.
Public Fire Restrictions Take Effect on Monday July 10th, 2017 at 12:01 am.
Monday, July 10th, 2017, 8:27:45 AM PDT
Lakeview, Oregon - Each year human-caused wildfires wreak havoc on Oregon's pristine landscapes and cost hundreds of thousands of dollars to put out. In an effort to prevent carless fires, the Oregon Department of Forestry's Klamath-Lake District and Walker Range Patrol Association has imposed public fire restrictions related to activities know to start fires. Violators of the "Regulated-Use Closure" will not only be cited, but may be held liable for fire suppression costs should a fire result. The following activities are either restricted by time of day of prohibited entirely:
Smoking is prohibited while traveling, except in vehicles on improved roads, and other designated locations.
Open fires are prohibited, including campfires, charcoal fires, cooking fires and warming fires, except at locations designated by the forester. Portable cooking stoves using liquefied or bottled fuels are allowed.
The use of power saws is prohibited during extreme fire danger. Chain saw use is permitted before 1 P.M. and after 8 P.M. during low, moderate and high fire danger. When permitted, each power saw is required to have one shovel and one fire extinguisher of at least 8 oz. capacity.
Cutting, grinding and welding of metal is prohibited during extreme fire danger and permitted before 1 P.M. and 8 P.M. during low, moderate and high fire danger. When allowed, this activity must be conducted in a cleared area and have a charged garden hose or one 2-1/2 lb. or larger fire extinguisher immediately available.
Motor vehicles, including motorcycles and all-terrain vehicles, are only allowed on improved roads free of flammable vegetation, except for the culture and harvest of agricultural crops.
Possession of the following firefighting equipment is required while traveling, except on state highways, county roads and driveways: one shovel and one gallon of water or one 2-1/2 lb. or larger fire extinguisher.
The use of fireworks is prohibited.
Aside form these restrictions', also prohibited throughout fire season is backyard debris burning, the use of exploding targets and tracer ammunition. The recent high temperatures and low humidity's have also forced the adjective class to be raised to "High". Contact the Oregon Department of Forestry's office at (541) 883-5681 Klamath Falls, (541) 947-3311 Lakeview or log onto www.oregon.gov/ODF/Fire/Pages/Restictions.aspx
Specific fire locations and other information can be found on the LIFC Incidents Information Report
NIFC National Fire News
Large Incident Information - InciWeb