SCOFMP & LIFC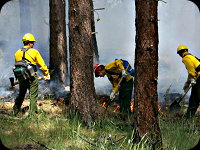 The South Central Oregon Fire Management Partnership is an interagency fire management program that provides comprehensive wildland fire service to south central Oregon and northwest Nevada.
The partnership strives to achieve a more efficient, effective and integrated interagency fire management program for all participating agencies on the land administered and protected by each agency. Dispatching is performed by the Lakeview Interagency Fire Center (LIFC).

Mission Statement
The mission for Lakeview Interagency Fire Center (LIFC) is to provide high quality service to all of our partner agencies in the most efficient and cost-effective manner possible while providing for firefighter safety at all times. All actions will be consistent with land and resource management objectives and current incident management direction.


Recorded Message of Fire Restrictions for Camping, Woodcutting, etc.
(541) 947-6259
News
Fire Season Ends for Klamath and Lake Counties
Thursday, October 13th, 2016, 8:12:20 AM PDT
Lakeview, Oregon - [Klamath Falls] The 2016 Fire Season is officially ending for Klamath and Lake Counties. Fire management personnel from Walker Range Patrol Association and the Klamath-Lake District, Oregon Department of Forestry [ODF] in cooperation with other local fire agencies and departments has declared the termination of the 2016 Fire Season as of 12:01 am, Thursday, October 13, 2016. "Fire Season" for the area has been in effect since June 5th.
The ending of fire season lifts the ban on Open Debris burning in Klamath and Lake Counties. Check with your local rural structural fire department for burning and permit regulations within their districts and the county health department for air quality restrictions. The Oregon Department of Forestry, Klamath-Lake District does not issue or require burn permits on lands solely protected by them when fire season is not in effect.
Logging Operation requirements including watchman services and fire equipment on site, in effect on private, county and state lands have also been lifted.
"We've appreciated everybody's preventive caution and AWESOME work during this 2016 season." stated Randall Baley, Protection Unit Forester. "Even though we have lifted fire season, it does not mean that people should be any less careful, they are still responsible for any fire that gets out of control and spreads. Debris Burning should be attended at all times, done only during daylight hours, in cleared areas, in 'no wind' conditions, and meeting Air Quality guidelines." Landowners need to remember that any burning escaping their control is their liability and they could be billed for the fire suppression costs. Be cautious, be fire safe, be careful.
The Oregon Department of Forestry recognizes the efforts of their seasonal and permanent staff in working to prevent large fires. They would also like to thank their cooperators, landowners and the people of Klamath and Lake Counties for their assistance in preventing fires from starting in the first place and for helping to keep the majority of fires that did start small.
During the 2016 season, the Klamath-Lake District [ODF] has documented 69 fires that burned approximately 765 acres. 5 of those acres burned were from lightning caused fires which falls well below the 10 year average.
Key Web Links: Oregon Department of Forestry http://www.oregon.gov/odf/Pages/index.aspx Klamath County Air Quality http://www.klamathair.org/ Lakeview Interagency Fire Center http://scofmp.org/lifc.shtm
Specific fire locations and other information can be found on the LIFC Incidents Information Report
NIFC National Fire News
Large Incident Information - InciWeb